Daredevil and His Creators!

Although Daredevil was created in 1964 by Stan Lee and Bill Everett at Marvel Comics, he was not an extremely popular character with comic book fans. He was somewhat a second string character that appeared to be similar to Spider-Man with great acrobatic skills and swinging among the towering structures of New York City.
The Dare-devil title did have limited success in the hands of noteworthy artists just as Wally Wood. Wood was responsible for changing the costume from the original yellow and black to the now familiar, classic red. And as another talented artist, Gene Colan, took over, the title enjoyed limited success through the 1960s and 1970s. Sales though, were never as strong as Marvel would have liked.
Frank Miller
When artist/writer Frank Miller took over the Dare-devil character in 1979, popularity started to grow. Frank brought a new dynamic to the character and a tone of the noir became prominent. The comic's hero became a tortured man constantly trying to reconcile his principles with the inner rage that proved to be the real reason he chose to become Dare-devil.
With Miller's first issue, #168, he created a new character revealed from the past. Elektra Natchios was an old college girlfriend who had become quite skilled as a deadly ninja style assassin. Elektra when on to have her own comic book series.
Many of the regular antagonists were dropped as Miller set up the principals who have become definitive with the modern character. The Kingpin, originally a Spider-Man villain, became the truly king-like master of New York's organized crime. He would share a complex relationship with the hero who would become his greatest enemy.
Bullseye was formerly just a hit man with unerring aim and the ability to use any object that he could shoot or throw as a weapon. He became a cold-blooded pathological murderer who is Daredevil's physical nemesis on the street level.
Daredevil also gained a mentor, the mysterious Stick, a sensei who trained the young Matt Murdock to control his senses and taught him the acrobatic martial arts that would make him so formidable.
Miller's initial run lasted until issue #191 (Feb 1983). Frank created a sensation that established a new take on superheroes with a dark tone that would influence the whole genre. Dare-devil became a popular title and Frank Miller's influence would be felt ever since. Frank went on to achieve more success with his "Sin City" graphic novels.
After Frank Miller
After Frank Miller left the Dare-devil title, other artists joined the character, taking their cues from Miller's dark noir style. Among those were Denny O'Neil, Ann Nocenti and Joe Kelly. The title although retaining limited success, started losing its appeal among the fans.
For the character of Daredevil, the 1990s were a huge disappointment. While comic books themselves were getting a lot of attention due to their collectibility, Dare-devil was largely ignored as a character, having only been well-known by avid comic book readers.
Enter Kevin Smith and Associates
In 1998, Marvel Comics brought out Daredevil (vol. 2) under the Marvel Knights imprint. Due to their past skills and success, Joe Quesada and Jimmy Palmiotti were brought on board. Their task was to create a new imprint that would be fairly autonomously controlled. The goal being to revitalize once popular characters that hadn't sold well in years. The flagship in their new launch was Daredevil, which was to be drawn by Quesada himself and scripted by fan favorite, Kevin Smith.
Kevin Smith's association with comic books really amazed me when I discovered this. I had known him for his writing/directing notoriety in the Hollywood industry, but was unaware of his comic book fascination.
Kevin was popular to the comic book community for two movies he had written which celebrated comic book culture: Mallrats and Chasing Amy. However, at this point, Smith had no experience working in the comic industry aside from a few comics based on his own characters from his first film, Clerks. Smith remarked at one point, that he called Joe Quesada to cancel his commitment to writing the series. He felt he could not live up to the standard set by Frank Miller. Soon after, however, he realized that he didn't have to be Frank Miller, and was able to write his story fairly easily.
What followed was a seven-issue story entitled "Guardian Devil". This series of stories depicted Daredevil struggling to protect a child who he is told could either be the next messiah or the anti-Christ. This brings Matt to a crisis of faith that is exacerbated by the death of a loved one.
The story concluded with a single issue and without any form of violence (still a rarity in superhero comics). Daredevil resolves his conflicting issues by talking about his feelings (this should make you girls happy, ha ha) with his close friends. This included other superheroes like Spider-Man and Black Widow, who had suffered similar losses.
The story line was massively popular. This re-established Daredevil as a first rate character. And also established Quesada as an intelligent editor, which lead him to the position of Editor-in-Chief at Marvel. Smith became known as a premier comic book writer, and paved the way for other screenwriters and novelists to write comic books including J. Michael Straczynski, Joss Whedon, Greg Rucka, Orson Scott Card, and Stephen King, to name a few.
More for Daredevil Fans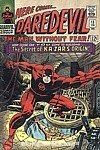 Now if you happen to be into collecting and reading more, I have researched some excellent resources. Here is a collection of of Daredevil comics and back issues . I don't think you will be disappointed.
You may very well find a tidbit or two worthy of your interest. And of course, the ole standby, Amazon has a few items to tickle your taste buds. Just click on the image at the left. Don't stay too long though, and come back here.
If you want to keep up on the varied and interesting activities going on in the world of comic books, then feel free to sign up for my newsletter "Comics Galore" in the form below. And by all means, I would love to hear your comments and opinions on the transformations the Daredevil character has gone through. You can sure leave them for me at my contact page in the menu at the left. I may even be able to include them in my newsletter. I thank you ahead of time.
Dave Gieber