DC Checks, Perfect for the Superhero Fan!
DC checks and checkbook covers are great for everyone tired of the run of the mill bank checks. You do use checks don't you?? Comic book hero types of checks are far more interesting, and in my mind, classy as opposed to what your local banks can offer you. And ordering checks online can save you time and money on resupplying your checks (all images are clickable).
Take a look. These checks are definitely more fun to look at than many, shall we say, more boring bank type checks. I sure have gotten a few very interested comments from others around town as they look at my Superhero checks. And again for a style of check with Batman, Green Lanern, Superman and Flash, check this style: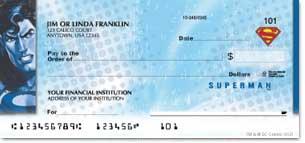 And for those who want to specialize in the grand daddy superhero of them all, and get a new check cover to boot: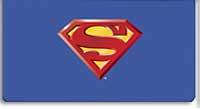 Of course there are also the diehard fans who think the Dark Knight was the first real comic book hero to hit the limelight LOL:

Superhero anything has become quite mainstream in the last several years. I must admit that I enjoyed being part of a small elite (or geeky as some would say) group back in the sixties. But I also now enjoy showing the way, as I try to do with my comic book site, into the 22nd century. So if it is comic book checks you are after, I have shown you how to obtain your own DC character checks and checkbook covers. Go click on the images above for your own personalized comic book checks now. You should find that the price is right. I don't think you will be unsatisfied! Enjoy.
Dave

DC Checks by Warner Bros. Checks