Comic Book Price Guide;
What is Your Collection Worth?
Wondering just how much your individual comics are worth? Would a good comic book price guide help me out? Where do I get one? Glad you asked.
The individual value of comic books these days are all over the map. Values can range from a few dollars to hundreds of thousands of dollars. And these days, even millions. The upper limit, though, is quite rare.
Individual value has so many factors involved, that many collectors may not have a clue as to how to evaluate their own magazines. You came to the right place.


There are several good comic book price guide sources for determining value. Apparently though, the bible on this subject is the "Overstreet Comic Book Price Guide" by Robert M. Overstreet. This will bring an extensive electronic copy to your fingertips in minutes. Boy, isn't the age of the Internet amazing? If you are like me, sometimes you want, or for that matter, need information now. You can have some of the best comic book pricing information available on the planet at your disposal in the next 5 minutes (or so). Then again, if you want a hard copy of a comic book price guide and are willing to wait a few days, here is an excellent source:

 Sidebar...
And now, for a limited time (til whenever I decide to discontinue the offer), if you purchase the Overstreet Guide through my affiliate links on this page, I have a special gift for you. If you send me your Heritage receipt at ifdgdw@comcastdotcom (of course changing the dot to a .) I will send you a copy of my Comic Book Collecting eBook and all it's bonuses. You can further read about my eBook at
my comic book eBook page.And don't forget to send me your receipt. This is the only way I can tell it was you who purchased. I thank you ahead of time. If you didn't receive a receipt, let me know anyway.
...End Sidebar

I will boil down some of the basics you really want to look for on this page. If you are serious about understanding the value of your own comic book collection, then the Overstreet Comic Book Price Guide is a very valuable resource to have. Actually, I have spent hours and hours looking at my copy. There is some very fascinating information there.
Once again, I would like to mention, whatever monetary value, that may be associated with your particular comic issues, keep in mind that the personal value to yourself may be the highest value there is. After all, personal satisfaction is the number one reason you have a comic book collection isn't it? And this can't be found in any comic book price guide.
Sidebar...
And Now, Profit from Comic Book Movies!
Hot dog! I have now had the fine pleasure of getting to know a master of comic book pricing tatics. He has some amazing info on how to track comic books that have corresponding movies in the works and how to profit from them. Why let Hollywood movie moguls be the only intities profiting from Superhero movies? Sean shows you how to buy low and sell high. And what to buy and what not to as you follow a new movie. So if you want to have fun and make a few bucks go check out out Sean's "Comics, Movies and Cash" bundle. 'Nough said!
...End Sidebar

The first step to pricing is grading
Over the years there has been much thought and evolution to how the physical condition of a comic book should be rated. Before a true value can be accessed, its condition and state of preservation has to be understood. It goes without saying (although I will say it anyway), that the better physical condition a magazine is, the higher is its perceived value. This is further explained in any good comic book price guide.
Grading your collection can become more of an art than a science, so you need to maintain as much objectivity as possible. You may want to rate your conditions higher than what the industry calls for. But this would give you an unrealistic assessment of the true value. A comic book price guide would be an excellent road map to have.

Overstreet has defined a 10 point system that can classify most any comic book condition. He has even gone to the point of creating a separate book breaking down all the fine details of grading. "The Official Overstreet Comic Book Grading Guide" will answer just about any question you will ever have on the grading system as it stands today. If you don't want that much detail, his comic book price guide will probably have enough grading information to help you give your collection a fair assessment. Boy, talk about an individual who has lived and breathed comic books over the years!

This guy knows his stuff.The table at the left defines the entire 10 point grading system. As you can see, it is broken down quite extensively. Following is a brief description of several of the grading levels. Of course, a more complete description is contained in either one of Overstreet's books, the comic book price guide or the grading guide.
Gem Mint: An exceptional example of a given book-the best ever seen. Only the slightest bindery or printing defects are allowed. Cover is flat with no surface wear. Inks are bright with high reflectivity. Corners are cut square and sharp. Spine is tight and flat. Staples must be original, centered and clean with no rust. Paper is white, supple and fresh. No interior autographs or owner signatures. This condition is quite rare and many new comic books today probably don't make it into this category.
Mint: You don't need to be a genius to get this one. The comic book has to be practically perfect-like you just bought it fresh and new. Wonderful, bright colors; gleaming, clean staples; properly flexible, clean, fresh paper; a nicely put together spine. Don't get uptight about your ultimate decision, but, again, don't lie to yourself. Mint is mint. Any imperfection has got to be almost invisible.
Near Mint/Mint: What a difference a slight imperfection makes? And that's the difference between Near Mint/Mint and Mint. No crying, continue to grade.
Near Mint: You are actually still in a very good place. A very good price, too-so, take a deep breath and be sure this baby is close to perfect, with an emphasis on the word "close" (which also means "near"). Scrutinize the book for bindery tears over 1/6th of an inch, visible stress marks, the cover even a little slightly faded? Rust free staples. Square corners. Paper like new. Spine flat. Everything you always wanted from a comic with, perhaps, only some tiny imperfections to mar your perfect view.
Very Fine: Still holds its own-bright, flexible pages with a corresponding bright, flat color. Stress lines and a bit longer (1/4") crease-OK. A slight discoloration of the paper-tan to yellow is allowed.
Fine: You look at this and you know it's been read, but it's also been treasured-or, at least, adequately preserved, by accident. Cover has a slight bluntness, but still some brightness. Pages haven't turned brittle, but yellowing, quite possibly, has begun.
Very Good: This comic is intact, but used, somewhat creased- somewhat faded, somewhat soiled. It could even have a ¼" triangle missing from corner. All kinds of stamping and marking from stores or distributors are permitted in this grade. Even a loose cover, bindery problems and page corrosion are permissible.
Good: Contains all pages and cover, but pieces might be missing. ½" triangle or ¼" square may be missing. All kinds of creases, scruffing, soiling, fading. But it's still whole.
Fair: Fairly horrible condition-soiled, faded, torn-up to 1/10 of the cover missing. Readable, but barely. This is the last stop on the road for a serious collector. Worth about 50-70% of value.
Poor: You'll recognize this one, all right. It's got tears and stains and mildew and dullness in the cover. Chunk of the cover and pieces of the pages are missing or marked up. A page may be missing, but it must be clearly noted for this messy monstrosity to even get this grade. You don't want this in your collection, unless there is something exceptional about it. Give it to your little sister-or five-year-old daughter, whatever's appropriate.
This gives a good bird's eye view of the 10 point grading system, which is explained in the comic book price guide. There is enough description here to give you a strong indication of the physical condition of your comics. If you really want to nail down your exact levels of condition, again, Mr. Overstreet's books are the best you will find.
Now, a burning question that may be going through your mind is how the heck can I keep my magazines in the best condition possible? A complete discussion is presented on my "Resources" page in the menu at the left. Just follow this link for tips and resources on keeping your comic books in tiptop shape.

Buying and selling comic books
Because of the amazing variety and age of comic books, a particular value for a particular magazine is almost impossible to rate without a comic book price guide. I will though, give an overview of what to look for and some representative values.
Another determination that has to be made is the age of your comics. The following is a list of time periods that all comic books fall into:
Victorian and Platinum Age comics (1828-1933)
Late Platinum and early Golden Age comics (1933-1940)
Golden Age comics (1941-1952)
Late Golden Age and early Silver Age comics (1953-1959)
Silver Age and early Bronze Age comics (1960-1979)
'80s and '90s comics (1980-1992)
'90s and Modern Age comics (1992-Present)Of course, the older a magazine is, the potentially more valuable it is and also the more rare.

  History has shown that the highest demand is for superheroes like Superman, Batman, The Human Torch, etc. With a high grade rating and being of the Golden Age or later, these titles could possible finance your old age. Don't bet the farm on finding them though. But it does make your mouth water, looking through a comic book price guide.
There are a variety of places where you can purchase or sell your comic books. I have provided a useful links page that you can get to from the menu on the left. This should provide you with some very good resources. There is also local dealers to check out, but be sure to find out all you can about them to make sure they are reputable. Then the biggie would be conventions.
And also, there are auction houses like Heritage Comics and MastroNet. I have provided a page that I will keep updated as to location and schedule of some of the bigger conventions. So be sure and check back often.

Well, as I finalize this page, I would like to give you some examples of what certain comic book prices have gone for in the past.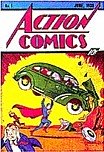 The grand daddy of all comics is Action Comics #1 with the first appearance of Superman ushering in the Golden Age. Mint condition is valued at 1.4 million, very fine at one million and fine bringing up the rear at $270,000. These are Overstreet #41 (2011 - 2012) prices. Very respectable values I would say, but where are these issues now? If they still exist, probably locked away in someone's vault along with their comic book price guide. That is where they would be alas, if I owned one of them.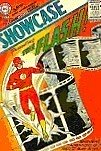 Flash signals the start of a silver age in comics. Near Mint condition comes in at $56,000. And very fine at $17,500.
These figures are complements of Mr. Overstreet and his comic book price guide and are only a small small sampling of the figures available. Oh, and if you want to see what a comic book stock exchange looks like, check out this link.
So as you can see, as you travel down the road of determining your comic collection value, a good comic book price guide is invaluable. The Overstreet Comic Book Price Guide, in my opinion, is well worth the price of admission if you are serious about appraisal. One other resource of added value is my own little compilation, "Comic Book Collecting, A Starting Point", which gives an encapsulated synopsis on getting started with or continuing your own collection (don't forget to send me your Heritage receipt).
As you surf through this website and look at all the great resources and armed with your own comic book price guide, you should be able to hold your own with most others whom are also interested in this ever-fascinating genre. Happy surfing.