DC Comics, Comic Book
Mega Force!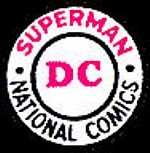 DC Comics is one of the two largest comic books, etc publishing companies known today. Over the years DC has been recognized under several names. Originally called Detective Comics, it then became National Comics in 1947 and later National Periodical Publications in 1961. But fans have always known them as DC-Comics.
Today they are a subsidiary of Time Warner and have been responsible for well-known characters as Superman, Batman, Wonder Woman and their teammates in the Justice League.
DC in the Beginning
DC Comics is actually a business amalgamation of several other companies. Malcolm Wheeler-Nicholson originally founded National Allied Publications in 1934. They were the first to publish the American comic book, which consisted of solely original material rather than reprints of the current popular comic strips of the day.
Nicholson followed that company with Nicholson Publishing and also More Fun Inc. But as these companies become strangled with debt, Nicholson decided to partner with Jack Liebowitz in 1937 in the company they called Detective Comics, Inc. Although, after about a year, they sold this company to Harry Donenfeld, who became well known in conjunction with DC Comics. Liebowitz went on with Max Gaines to form All-American Publications, which in the late 1940s merged with Detective Comics to form National Comics. Gaines was eventually bought out and he used his proceeds to start Educational Comics, Inc. Boy, I haven't had this much fun since the Rubik's Cube. Let's see where was I.
DC Comics helped to usher in what comic book fans would call the Golden Age of comic books. They were also the first to feature Superheroes, which started off with a major bang when Action Comics #1 was released. And of course, all those in the know, realize this was when Superman was introduced. Other now popular characters introduced at that time were Batman, Wonder Woman and the first superhero team, the Justice Society of America.
When the superhero genre faded in the late 1940s, the company focused on other genres, such as science fiction, Westerns, humor and romance. They largely avoided the crime and horror trends of the time, thus avoiding the backlash against crime and horror comics in the 1950s. A handful of the most popular superhero titles (most notably Action Comics and Detective Comics, the medium's two longest-running titles) continued publication.
Further DC Adventures
As the mid-fifties rolled around, it was the opinion of then publisher, Jack Liebowitz and editorial director Irwin Donenfeld that the superhero trademarks needed to be maintained. Superheroes weren't popular at the time, some of the past heroes were earmarked for revamping and republication. The Flash was brought out of mothballs by editor Julius Schwartz and was modernize and published again. The issue, to everyone's surprise at DC Comics, was very popular and more issues were scheduled for creation.
This ushered in what comic books fans have dubbed "The Silver Age" of comics. With this new superhero insurgence, a similar revamping of Green Lantern was ordered. Also a new series was introduced featuring a team-up of the company's more popular superheroes called Justice League of America, which was a modern day Justice Society.
Other superhero characters, who had not been cancelled, were similarly overhauled. Under the wise eye of Mort Weisinger, new characters were introduced to the Superman family. Supergirl, Bizarro and Brainiac were established and still hold an influence today.
And although less successful, Jack Schiff introduced Batwoman, Bat-Girl and Bat-Mite to the Batman fold. He also tried to modernize the Bat concept by introducing some science fiction elements. Later more emphasis was laid on Batman as becoming a super detective.
For a while during the 1960s when the campy Batman TV series aired, DC saw a tremendous increase in sales. But after the series cancellation there was again a quick sales decline. So in 1967, Batman artist Carmine Infantino became the company's editorial director. Faced with the declining sales, in part because of the growing popularity of Marvel Comics, he attempted to remedy the situation with an infusion of new titles and characters. He also recruited major talents such as Steve Ditko and promising newcomers such as Neal Adams. DC Comics went from being writer driven to artist driven, as all new editors hired were artists: Joe Kubert, Dick Giordano, Mike Sekowsky, Jack Kirby.
To find out more of DC's trials and tribulations, use the link below to continue the story.
More for DC Comics Fans

To see what DC is up to today, you can visit their official site at dc comics .
There also looks to be quite a varied assortment of all things DC at Amazon that may tickle your taste buds. Just click the image to the left. Don't stay too long though, and come back here. I have more interesting factoids on my next page.
If you want to keep up on the varied and interesting activities going on in the world of comic books, then feel free to sign up for my newsletter "Comics Galore" in the form below. And by all means, I would love to hear your comments and opinions on DC Comics. You can sure leave them for me at my contact page in the menu at the left. I may even be able to include them in my newsletter. I thank you ahead of time.
Dave Gieber

Up, up and away for more dc comics