Hero Gets Girl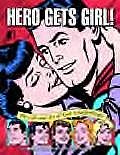 There were only a precious handful, and artist Kurt Schaffenberger (1920-2002) was among the best.
The handful mentioned is artists and writers who worked in both the Golden and Silver Age of comics, and a trade paperback, Hero Gets Girl, is Schaffenberger's story.
His career began at the Binder "Shop", an assembly line of writers and artists who created comic books for several early publishers. It continued through his employment at Fawcett (Captain Marvel), the American Comics Group (MagicMan) and National/DC (Superboy), where Kurt produced a huge volume of work.
From 1941 to 1991, Kurt handily drew the adventures of everyone from Captain Marvel, Jr. to Nemesis, from Superman to Lois Lane. He won a huge following of loyal fans who loved his distinct, clean line-work.
Clean best defined Kurt's style that he defined as 'idealized reality', and his life as well. Both reflected an optimism and work-ethic alien to many today. And Schaffenberger's art needs no signature to be identified as his work.
In addition to Kurt's life story, Hero Gets Girl also features a great number of his covers, pages and sketches, photographs, an extensive index of his published work, and homages from friends and professionals that span his entire career.
Those homages also reveal fascinating tidbits about the lives of famous cartoonists including Ken Bald, Will Eisner, Carmine Infantino, Julius Schwarts and many others.
My favorite section publishes Christmas cards that Kurt created for his friends, family, and associates.
Hero Gets Girl was written with the open, conversational enthusiasm and admiration of fan and friend, Mark Voger. His biography is highly re-commended for anyone interested in the history of comics.
Schaffenberger is an Associate of the Oklahoma Cartoonists Collection.
Hero Gets 'Girl: The Life and Art of Kurt Schaffenberger/126 pgs. and $14.95 from TwoMorrows Pub./ available at comics shops and www.twomorrows.com. MV
Order Vance's history of the American Comics Group in Alter Ego #61 at www.twomorrows.com.
Interested in the exciting Oklahoma Cartoonists Collection and Toy and Action Figure Museum? Go to fourcolorcommentary.blogspot.com/