The Jungle Book!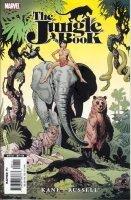 The Jungle Book, published by Marvel Comics, 64 pages, $2.99.
Classics are always worth reading and promoting, even in comic book form. Such is certainly the case with Rudyard Kipling's The Jungle Book, published by Marvel Comics. Originally presented in Marvel Fanfare # 8-11, published in 1983, the story was adapted by writer Mary Jo Duffy and writer/artist Gil Kane, with an art assist by P. Craig Russell.
For those unfamiliar with the tale, it concerns a young boy who is adopted by a family of wolves, to the chagrin of Shere Khan the Tiger. As Mowgli the Frog (as mother wolf, Raksha, names him) comes of age and forms key friendships and alliances in the jungle, the threat of Shere Khan looms large, and the history and laws of the jungle unfold to Mowgli and reader alike in grand and entertaining fashion. Kudos to scripters Duffy and Kane for their apt condensing of the tale for fans of sequential entertainment.
It will come as no surprise to Golden- and Silver-Age fans that Gil Kane's art is a wonderful site to behold, but with this work we get to see him step away from the capes and tights genre and stretch his artistic legs. Kane's Mowgli is long and lean, as one would imagine of a boy who grows up to swing through the trees and endure the sometimes-scant diet of jungle life. But, as his "man cub" is somewhat spindly, his wolves, tigers, panther and bear appear powerful and agile, almost majestic. Add to this Russell's beautiful ink work and stunning solo covers, reproduced inside, and you have an art lover's dream. Every book should look this good!
The Jungle Book is highly recommended for those who enjoy action and adventure, with just a hint of whimsy, as well as those who like beautiful art work. This is an all-ages book, so be sure to get it into the hands of your youngsters. Find it at comics shops and online retailers and auctions.
Mark Allen

Back to Comic Book Review