Marvel Comics,
the Marvelous Beginning!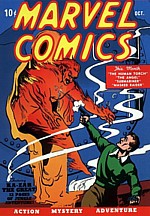 Marvel Comics is an American comic book institution. These days they are part of a corporate conglomerate, known as Marvel Entertainment, Inc. Although not starting out as a capitalist mega-force, they are now well known for highly popular (and, I might add, profitable) characters such as Fantastic Four, The Amazing Spider-Man, The Incredible Hulk, Iron Man, Daredevil, Captain America, and X-Men. Since the 1960s, Marvel has become one of the two largest American comic book companies in history, along with DC Comics.
Here is a generous description of what Marvel has to say about itself: "With a library of over 5,000 proprietary characters, Marvel Entertainment, Inc. is one of the world's most prominent character-based entertainment companies. Marvel's operations are focused in four areas: entertainment (Marvel Studios), licensing, publishing and toys (Toy Biz).
Marvel facilitates the creation of entertainment projects, including feature films, DVD/home video, video games and television based on its characters and also licenses its characters for use in a wide range of consumer products and services including apparel, toys, collectibles, snack foods and promotions. Marvel's characters and plot lines are created by its publishing division which continues to expand its leadership position in the U.S. and worldwide while also serving as an invaluable source of intellectual property."
Marvel Comics Early History
While living in a cabin in the woods of rural Illinois (whoops, wrong history). At any rate, an already established pulp-magazine publisher of the time, Martin Goodman, founded Marvel Comics in 1939. Originally it was grouped together with other subsidiary companies under the umbrella name of Timely Comics. The first publication came out in October of 1939 (see image above) and was dubbed Marvel Comics #1.
This issue featured the first appearance of Carl Burgos' android superhero, the Human Torch along with Bill Everett's mutant anti-hero Namor the Sub-Mariner. An outside packager, Funnies, Inc, supplied the contents of this first sales blockbuster. By the following year though, Timely had put its' own staff in place.
Joe Simon, who was a writer/artist at the time, became the company's first editor. He teamed with Jack Kirby, who was little known at the time, to create one of the first patriotically themed superheroes, Captain America, in Captain America Comics #1 (March 1941). It too, proved to be a major sales hit. And as most comic book fans know today, Jack went on to become an industry legend.
While no other Timely character would be as successful as these previous superheroes, the decision was made to also publish one of humor cartoonist Basil Wolverton's best known features, Powerhouse Pepper.
Moving to the Future
As the future moved into the post-war era, sales of all comic books declined drastically. And the superhero archetype characters, popular during the Depression and the war years, went out of fashion. Like other comics companies, Timely, now generally known as Atlas Comics in the 1950s, followed pop-cultural trends of the day with a variety of genres.
These included funny animals, westerns, horror, war, crime, humor, romance, spy fiction and even medieval adventure, all with varying degrees of success. An attempted superhero revival in 1953-54, with the Human Torch, the Sub-Mariner and Captain America, failed. Apparently the time was not yet ripe for the resurgence of superheroes.
It was at this point that publisher Goodman attempted a new direction. By following the current drive-in science fiction movie trend, he launched or revamped six titles to offer these types of stories. They included Strange Worlds #1; World of Fantasy #15; Strange Tales #67; Journey into Mystery #50; Tales of Suspense #1; and Tales to Astonish #1.
These space-fantasy tales though, proved unsuccessful, and by the end of 1959, most of these titles (Strange Worlds and World of Fantasy being cancelled) became devoted to B-movie type monster characters. Most featured a line-up of Jack Kirby-drawn stories (often inked by Dick Ayers).
The first comic book labeled Marvel Comics was the science fiction anthology Amazing Adventures #3, which showed the "MC" box on its cover. Cover-dated Aug. 1961, it was published May 9, 1961, according to Library of Congress copyright information.
To continue the Marvel Comics saga, scroll down to the bottom of the page and click on through.
More for Marvel Comics Fans

To see what Marvel is up to today, you can visit their official site at Marvel Comics .
There also looks to be quite a varied assortment of all things Marvel at Amazon that may tickle your taste buds. Just click on the image at the left. Don't stay too long though, and come back here. I have more interesting factoids on my next page.
If you want to keep up on the varied and interesting activities going on in the world of comic books, then feel free to sign up for my newsletter "Comics Galore" in the form below. And by all means, I would love to hear your comments and opinions on Marvel Comics. You can sure leave them for me at my contact page in the menu at the left. I may even be able to include them in my newsletter. I thank you ahead of time.
Dave Gieber
One click away from more Marvel Comics