Michael Vance


Michael Vance was first published in The Professor's Story Hour chapbook at the age of eleven and became a professional freelance writer in 1977. He has been published in dozens of magazines and as a syndicated columnist and cartoonist in over 500 newspapers. His history book, Forbidden Adventure: The History of the American Comics Group, has been called a "benchmark in comics history".
His magazine work has been published in seven countries, and includes articles for Starlog, Jack & Jill and Star Trek: The Next Generation.
He briefly ghosted an internationally syndicated comic strip, and his own strip for five years called Holiday Out that was reprinted as a comic book. Vance also wrote comic book titles including Straw Men, Angel of Death, The Adventures of Captain Nemo, Holiday Out and Bloodtide. His work has appeared in several comic book anthologies, and he is listed in the Who's Who of American Comic Books and Comic Book Superstars.
His twenty three short stories about a fictional town called "Light's End" have been published in Media Scene, Holiday Out Comics, Dreams and Visions, Maelstrom Speculative Fiction, Whispers From the Shattered Forum, On Spec, Whispers from the Shattered Forum, Lovecraft's Mystery Magazine and many others. They have also been recorded by legendary actor William (Murder She Wrote) Windom and are being released on cassettes and CDs. One of these stories was nominated for the international 2004 SLF Fountain Award for Best Short Story.
With novelists Mel Odom and R.A. Jones, he co-wrote Global Star, a tabloid in a world where werewolves and babies born with bowling balls in their stomachs are reality, and the New York Times and Washington Post are "trash journalism".
Vance's weekly comics review column, Suspended Animation, has been continuously published for more than fifteen years, currently reaching more than 2.25 million readers in fanzines, newspapers, and in over eighty websites.
In addition, he worked in newspapers for twenty-two years as an editor, writer and advertising manager, creating three successful newspaper magazines.
Vance also created the new Oklahoma Cartoonists Collection housed in the Toy and Action Figure Museum in Pauls Valley, Oklahoma.
He is currently communications director of a nonprofit agency, the Tulsa Boys' Home, in Tulsa, Oklahoma. He is a Christian.
Mark Allen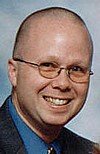 Mark Allen lives in Northwestern Oklahoma with his wife and two children. He has been a Baptist minister for over 15 years. Having written for the Oklahoma news industry, as well as many different comics web sites, including Starland, Digital Webbing, UGO, and Komikwerks, Mark enjoys using the written word to share with others what he believes is a true, and extremely under-acknowledged art form.