Pogo, Revisited!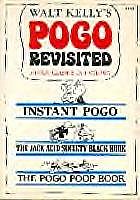 Choosing a book from one's own library is like selecting a bottle of wine from your own stock, with one exception.
No one can drain a book.
Pogo Revisited (1970s) reprints three earlier collections, Instant Pogo, The Jack Acid Society Book and The Pogo Poop Book. They feature Walt Kelly's Pogo comic strips from the '50s and –60s, and original material created for these editions.
This original work includes stories with the pacing of comic books, Kelly's nonsense verse and "TV jinkles" (advertising jingles), illustrated prose stories, essays, and Kelly's brilliant understanding of human nature -- if talking possum, turtles, owls, alligators, pigs and dogs are "human beans" in your book.
This collection is Walt Kelly at the long-sustained height of his creative genius as an artist and writer.
As an artist, his style is similar to that of another comics genius, Will Eisner. Both were flawless visual storytellers. Both had mastered beautiful, smooth line-work, and had perfect control over the technical aspects of cartooning.
As a writer, Kelly loved to play with words (you nump-skull!) and body language. Pogo and pals seem to dance verbally and visually across the page even as they pun and mangle the English language.
Oog! Nothing is better than vintage Kelly, and this and any Pogo collection receives the highest recommendation.
Walt Kelly's Pogo Revisited original cover price--$3.95, 320 pgs. from Fireside Books/available at used on-line or storefront book stores, some comics shops, some libraries, and at estate sales, on-line auctions, and maybe even at a garage sale. You get the idea. MV
MINIVIEW: The Sandman Papers [Fantagraphics Books] If you analyze a joke, you destroy it. The same is true for a renowned comic book series. This collection of essays dissecting DC Comics' The Sandman is tedious and recommended for only the most diehard Sandman fan. MV
Order Vance's history of the American Comics Group in Alter Ego #61 at www.twomorrows.com.
Interested in the exciting Oklahoma Cartoonists Collection and Toy and Action Figure Museum? Go to fourcolorcommentary.blogspot.com/

Back to Comic Review
Your first paragraph ...