Roger Rabbit!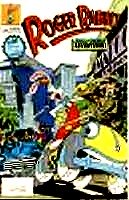 Phu-phu-puh-puh-leeeze! That now old adage, "Comics Aren't Just for Kids Anymore", is not an exclusionary statement! It means that that there are comic books for adults and kids!
Ta-ta-ta-take, for example, Roger Rabbit, featuring that big, flop-eared mess from the huge motion-picture hit, "Who Framed Roger Rabbit", of some years ago.
Some years ago? you ask as you impatiently thump a foot. You mean you're reviewing an old comics series again, Mr. Reviewer? Man, don't you read anything new?
Be still, gentle reader. It never hurts to point out that one of the joys of reading and/or collecting comic books is that they remain available today in the back-issue bins of comics shops and on on-line auctions, and every title is new for you if you haven't read it.
As we travel into Toontown, our overenthusiastic rabbit opens the first issue of his debut title at the Ink and Paint Club where his voluptuous wife, "bad" girl Jessica, croons in that skin-tight red dress she always wears. The club is in shambles.
Ah, a mystery for Roger to solve!
There is no mystery, however, about why Roger-Rabbit works as a comic book. This is the movie performed on a paper stage, and every-one and everything is in character. The manic, slapstick, cartoon energy of Toontown played against real-world humans is perfectly recaptured by the artistic team. And that means nutty fu-fu-fun for everyone!
All Roger-Rabbit issues are recommended for the young and the young at heart who wish to escape the mundane world. MV
Roger Rabbit #1 (1990)/26 pages and originally $1.50, Disney Comics/ lead story--words: Kate Worley, pencils: Rick Hoberg, inks: Dave Simons/sold at comics shops and on-line auctions.
Kate Worley and Dave Simons are members of the Oklahoma Cartoonists Collection inside the Toy and Action Figure Museum in Pauls Valley, Oklahoma.
Order Vance's history of the American Comics Group in Alter Ego #61 at www.twomorrows.com.
Interested in the exciting Oklahoma Cartoonists Collection and Toy and Action Figure Museum? Go to fourcolorcommentary.blogspot.com/
Shudder at Michael Vance's "Light's End" audiotapes narrated by legendary actor William Windom. Star of 18 Broadway plays, 200 TV shows (Murder She Wrote, Star Trek, etc) & 50 movies, Windom will chill you as Vance's prose curdles your blood! Light's End #1: "A Change of Heart" and "Cross Purposes" or #2: "Fall Guy" and "The Zoo" plus the song "The World Roars On". $10 unsigned. $20 signed by Windom and Vance. Cassette or CD from: Vance, 1427 S. Delaware Ave., Tulsa, OK, 74104, or www.starbase21OK.com!

Back to Comic Book Review (roger rabbit)