Runaways, published by
Marvel Comics,
144 pages, $7.99.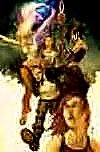 It's great to see Marvel Comics finding success in a series of digest comics, and wonder of wonders, in retail outlets other than comics shops! I'm speaking of the series entitled Runaways, (of which five volumes have been published at the time of this review) the continuing story of a group of teenagers who are trying to learn about their super powers and cope with their often-clashing personalities, both while on the run from good guys and bad. The worst part? The bad guys are their own parents. I won't reveal anything else story-wise, but will instead let you discover for yourself the wonderful sequential entertainment that is Runaways.
Written by Brian K. Vaughan, this is a work in which superheroics is secondary; the icing on the cake for superhero fans or an endurable aside for those who carry a torch for spandex-free tales. What takes front and center stage is characterization. Vaughan has captured the average American teenager in an impressive manner. Whether reflected in anger, bliss, resentment, joy or what have you, the characters are believable in both action and dialogue.
The art work is provided primarily by Adrian Alphona, with some by Takeshi Miyazawa. I have to admit to being partial to Alphona's work, as I believe it more detailed and a tad more realistic. Not to mention that, as the original artist for the first several issues of the series, she gave the characters their life, their "zing." Miyazawa's work has a much heavier Manga influence, and is less my "cup of tea." But, Manga fans be advised. If I had a suggestion, it would be that Marvel keep it's mainstream characters out of this series, that it might maintain it's own unique "flavor." The "no tights in sight" rule, if you will.
Runaways is recommended for all but the youngest readers (12 and up, according to Marvel's rating system). Find it at comics shops, bookstores and online retailers and auctions.
Mark Allen
For information on the exciting Oklahoma Cartoonists Collection and Toy and Action Figure Museum go to fourcolorcommentary.blogspot.com/

Back to Comic Book Review (runaways)