Schulzs Youth, Charles Schulz
on Teenagers!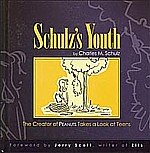 Schulzs Youth, published by About Comics, 296 pages, $14.95.
Charles Schulz. I'll bet you've heard the name. Creator of the long-running and much loved Peanuts strip, it's a good bet that the few who haven't are still playing toy pianos and carrying around security blankets. What you may not have known, however, is that Schulz also wrote teenagers. In the event that you missed that little tidbit, a wonderful volume awaits you in Schulz's Youth. And I have to say, the man wrote the adolescent crowd nearly as well as he did the shin-kickers.
Many of the well-known teen characteristics are here. Allow me to demonstrate with excerpts from the book. The painfully honest teen: "I'm not interested in becoming real educated, Dad. I just want to be like the average adult, and feel that I know all the answers." The deeply contemplative teen: "If we won't have mothers and fathers up in heaven, Mom, what do you think you'd like to have me call you?" The self-absorbed teen: "I think we should have a humane society for teen-agers!" The perceptive teen: "When you look at movie advertisements, does it ever occur to you that those people aren't interested in our spiritual development?" And on and on the insightful entertainment goes. Take it from a 13-year minister to teens, Schulz had some insight.
Another selling point is Schulz's art. It's as distinctive as it ever was in Peanuts, but with an appropriate sensitivity to the subject matter. So, it's not like you'll look through the whole book and never have a "Now THAT'S Charles Schulz!" moment, as his style is fairly well imprinted on the American psyche. Most, however, will forget they are reading the work of the creator of Charlie Brown just enough to enjoy the personalities and situations of Chuck's teens.
Schulz's Youth is recommended for everyone. Find it at comics shops, bookstores, online retailers and auctions or anywhere else you can buy, barter, beg or give blood for it.
Mark Allen