Shamballa!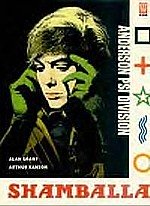 Anderson Psi Division: Shamballa, published in 1991 by 2000 AD Books, 64 pages, $8.95.
Levitating nuns? Frogs hatching from meteorites? People attacked on the streets by wild, supernatural animals? What's happening in Mega-City One? It's the job of Psi-Judge Cassandra Anderson to answer that question in a graphic novel entitled Anderson Psi Division: Sham-balla.
For those not familiar with the character, Cassandra Anderson comes to readers from the cast of 2000 AD Books' Judge Dredd mythos. It's not a body of work with which I'm overly familiar, but I'm glad I took the time to get to know this particular piece of it.
Written by Alan Grant, Sham-balla combines science fiction, high adventure and horror to produce a story as chilling as it is exciting to read. Grant's well-paced storytelling keeps the reader engaged from start to finish. His characterization also hits home, especially where the main character is concerned.
Cassandra seeks to cope with the death of people close to her, a task made all the more difficult considering the tendency of her telepathic abilities to deepen those relationships. Add to these personal struggles the madness going on around her and Anderson becomes an almost classic tragic figure.
As superior as Grant's work is, however, Sham-balla is made all the more impressive by the work of artist Arthur Ranson. Ranson has a photorealistic style that is one of the best ever seen in comics or graphic novels. In my opinion, the gentleman's attention to detail, which incorporates very fine line work and amazing textures, can be classified as second-to-none, if such a classification exists. If it doesn't, it should be created just for him.
If there is a drawback to Sham-balla, it is that those unfamiliar with the world of Judge Dredd will not have any background on the characters. It's a small fault, however, and won't distract from the story much, if at all.
Anderson Psi Division: Shamballa is highly recommended. Find it at comics shops and online auctions or retailers.
Mark Allen

Back to Comic Book Review ( shamballa )