Shark-Man; and Who is This?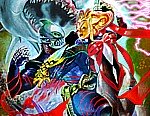 Shark-Man #1, published by Thrill-House Comics, 32 pages, $3.99.
My first impressions of Shark-Man upon spotting it at the local comics store: "Garish. Derivative of so many other comics that combine the name of an animal with 'man'. Not worth my time." Thus, I've once again learned the lesson that you truly can't judge a book by it's cover. Shark-Man is worthy of note.
Writers Ronald Shusett and Steve Pugh introduce readers to a futuristic city on the sea called New Venice and it's founder Alan Gaskill, a multi-billionaire who also happens to be the mysterious hero known as Shark-Man. From the beginning, they weave a tale which includes the hero confronting hi-tech pirates, ravenous great white sharks, a city-wide "mutiny" of sorts and a murder mystery which..., well, you really should see for yourself. They also provide an intriguing cast of supporting characters and arrange for future events in a way that appears interesting enough to help keep things going. Bottom line: this was an entertaining story that hooked me (no pun intended) from page one.
Artist Steve Pugh, with assistance from Garry Leach, provide the visuals. Did I call the cover "garish?" Well, yes. May the artists forgive the time it took for my eyes to adjust to what is truly an elevated style when compared to most of what is on the racks today. The ultra-realistic art of Shark-Man grabs you, shakes you and demands you take notice of the incredible detail, amazing draftsmanship and dazzling color that abound on every page.
Is Shark-Man shockingly original? No. It is, in some obvious aspects, derivative. Is it a beautifully executed comic, with interesting characters, striking artwork and even a twist or two in the first issue? Without a doubt. It's a thrill-ride in every sense of the word, folks. Hence the name of the publisher, I suppose.
Shark-Man is not, however, recommended for younger readers, due to some violent imagery. Find it at comics shops, online retailers and auctions or at www.thrillhousecomics.com .
Mark Allen
Check out Dreams and Visions #35 for a new Vance short story: www.bconnex.net/~skysong/dream.htm.
Interested in the exciting Oklahoma Cartoonists Collectiion and Toy and Action Figure Museum? Go to fourcolorcommentary.blogspot.com & www.youtube.com/watch?v=eCARtM5BvvU.
Order Michael Vance's history of the American Comics Group in Alter Ego #s 61 and 62 at www.twomorrows.com.
Interested in the exciting Oklahoma Cartoonists Collection and Toy and Action Figure Museum? Go to fourcolorcommentary.blogspot.com/