The Killer!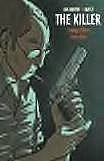 The Killer #1 (of 10) $3.95 & 32 pgs., from Archania Studios/written by Matz; drawn by Luc Jacamon/sold at comics shops & www.aspcomics.com.
The back-cover blurb reads: This series contains adult content, graphic violence, nudity, and strong sexual content. That is usually enough to win a 'thumbs down' from this reviewer.
Then, there's The Killer, a relentless and unromantic story that promises a cold look at the very worst in human nature. This ten-part graphic novel is about the life and thoughts of a cold-blooded assassin.
"I used a bat. I couldn't afford a gun back then."
Did you shudder?
This is not a pretty picture, in one sense, and certainly not one for children. In particular, the assassin's characterization is as shamefully riveting as it is ugly.
Its relentless and understated pacing, dialog, and plot are flawless and captivating. It will be a rare person indeed who can read the first installment without buying the next issue.
In another sense, The-Killer is a pretty picture.
With a minimalistic, beautiful style that is always conscious of color, and using flawless visual storytelling, the artist uses average faces moving in the real world to tell his decidedly violent, nihilistic story.
This is not an ocean one should frequently bath in, but if you are in the mood for a hard-as-nails look at the underbelly of life, you may want to take the plunge.
The Killer is extremely well written and drawn and is highly recommended for adults. MV
MINIVIEW: The Joy of A Peanuts Christmas: 50 years of Holiday Comics [Hallmark Books]. Charlie Brown and his friends always make me smile, and that is a wonderful gift to a fallen world. Possibly the most popular comic strip in history, this volume reprints the minimalistic art of Charles Schulz from five decades of Christmas celebrations. MV
Check out Dreams and Visions #35 for a new Vance short story: www.bconnex.net/~skysong/dream.htm
Interested in the exciting Oklahoma Cartoonists Collection and Toy and Action Figure Museum? Go to fourcolorcommentary.blogspot.com/
Order Michael Vance's history of the American Comics Group in Alter Ego #s 61 and 62 at www.twomorrows.com.
Interested in the exciting Oklahoma Cartoonists Collection and Toy and Action Figure Museum? Go to fourcolorcommentary.blogspot.com/

Back to Comic Book Review ( the Killer )