Batman, Legends of
The Dark Knight!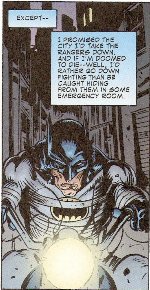 Batman, Legends of The Dark Knight #168, published by DC Comics, cover price $2.50, back issue prices vary.
My definition of the perfect comic book story: An entertaining tale that hooks you right away, and contains a beginning and ending in a single issue. Such stories are nearly extinct, these days. I found one, however, in Bat-man: Legends of The Dark Knight #168, in a story entitled "Urban Legend."
Long-time comics scribe Bill Willingham weaves a Bat-tale that's worthy of a "best-of" collection. That is NOT hyperbole, folks. I mentioned stories that hook the reader right away, and this one does it with 50-pound test line. Without giving away any major plot points, I'll simply tell you that the main character of this issue suffers some very severe trauma of both physical and mental nature, and the reader feels a great deal of it right along with him. We're not talking about 100% shock value, however. No, no, there are plenty of would-be "greats" resorting to that in the beleaguered world of comics. The shock is there, to be sure, but it's backed up with intrigue, drama, characterization and a darn fine mystery to boot. That doesn't typically result in comics without great writing, as well as great art. And, speaking of the art...,
I'd never heard of artist Tom Fowler before reading this story, but I'm now a fan. The players in this yarn are wonderfully characterized with a slightly exaggerated style that is fluid and action-oriented. The hero is tortured and suffering, yet a noble and sympathetic figure. The villains appear shifty, smarmy, and at times, a little greasy. All of it is splashed onto the background of the seedy and violent Gotham underworld, a place I would only go within these pages. And, it's a trip well worth the taking.
This issue of Batman: LoTDK is recommended for older readers who are tired of having to read 30 different issues of six different titles to get one story.
Mark Allen
Back to Comic Book Review ( Batman )