Pals n Gals, more Archie Delight!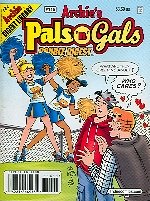 Archie's Pals n Gals Double Digest #s 113-116/$3.69 and approximately 169 pages each from Archie Comics/various writers and artists/sold at book and comics shops and at www.archiecomics.com.
So what new does one write about Archie's Pals 'n' Gals since all of the approximately sixteen Archie titles are basically interchangeable?
This "double digest" offer more than forty features including everything from one-page gags, pin-up art, coloring pages, and word games, to comics stories of varying lengths. However, that's not different. Almost all of the Archie digest publications do so.
Archie's Pals n Gals is well-written and drawn in a simple style with few details that targets a younger audience. Its cast includes Archie, Jughead, Reggie, Betty, Veronica, and a smattering of "second banana" characters. Herein, gentle reader, lies the real difference between this and other Archie titles: Pals 'n' Gals is loaded with secondary characters.
The featured bunch includes Lil Jinx (a five or six year old girl), Sabrina (the Teenage Witch), GiGi (Lil Jinx's young friend), Mr. Lodge (Veronica's rich father), Josie and the Pussycats (a teenaged Rock and Roll band), Little Archie (with the gang also at five or six years of age, Little Sabrina (as a kiddo), Ginger Lopez (a teenage girl), and a host of others.
The stories featuring teenagers focus mostly on boy and girl relationships and situations at school, work and home. The younger bunch of bananas tackles the problems faced by preteens. The goal in every story is a gentle fun that wins more smiles than laughs.
And stories and characters are all set in a world without nihilism or graphic sex or violence in which each character is gifted with a sense, almost always implied instead of stated, of human value and nobility.
Archie's Pals 'n' Gals is recommended for readers of all ages so inclined.
Michael Vance
Check out Dreams and Visions #35 for a new Vance short story: www.bconnex.net/~skysong/dream.htm
Interested in the exciting Oklahoma Cartoonists Collection and Toy and Action Figure Museum? Go to fourcolorcommentary.blogspot.com & www.youtube.com/watch?v=eCARtM5BvvU.

Back to Comic Book Review ( pals n gals )